2021 was packed with surprising commercial launch activity globally. Wrapping up the year, there are still many exciting launches coming up for November and December such as multiple lift-offs of SpaceX's Falcon 9 (Crew-3, Starlink, DART, CRS 24, etc.), micro launcher Astra's Rocket 3 test launch, 2 Rocket Lab Electron launches with Black Sky's commercial fleet of EO spacecraft, satellites for Europe's navigation constellation Galileo on an Arianespace Soyuz rocket, 34 OneWeb EO satellites on a Russian Soyuz rocket or the lift-off of the James Webb Space Telescope on an Ariane 5 (and many more).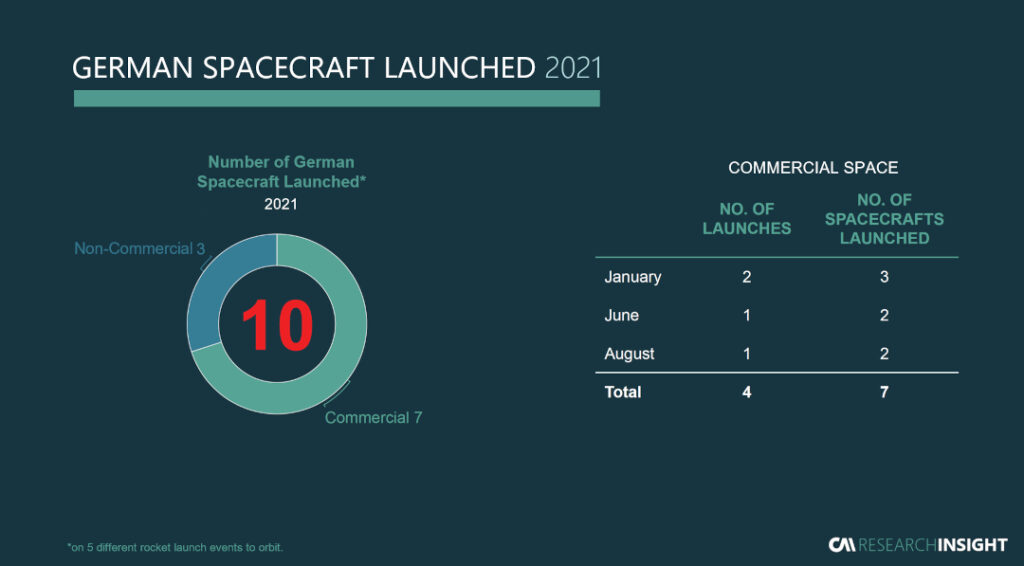 Zooming in to a German commercial scale, 2021 saw an increasing number of spacecrafts (2021:7; 2020: 4, 2019: 5, 2018: 5) which were launched on 4 different rockets. All of the rocket launches were successful with the majority of the spacecrafts being deployed in an operational status. Of these missions, 5 were technology demonstrations (OHB, TESAT, HPS, KLEO). Successful tech demos with prototypes are a unique opportunity to showcase possible applications, performance and feasibility for Space Technology. This helps to drive investment decisions and attract potential customers because the results show that the team is executing, their technology was de-risked and an MVP is likely to become available in the near future.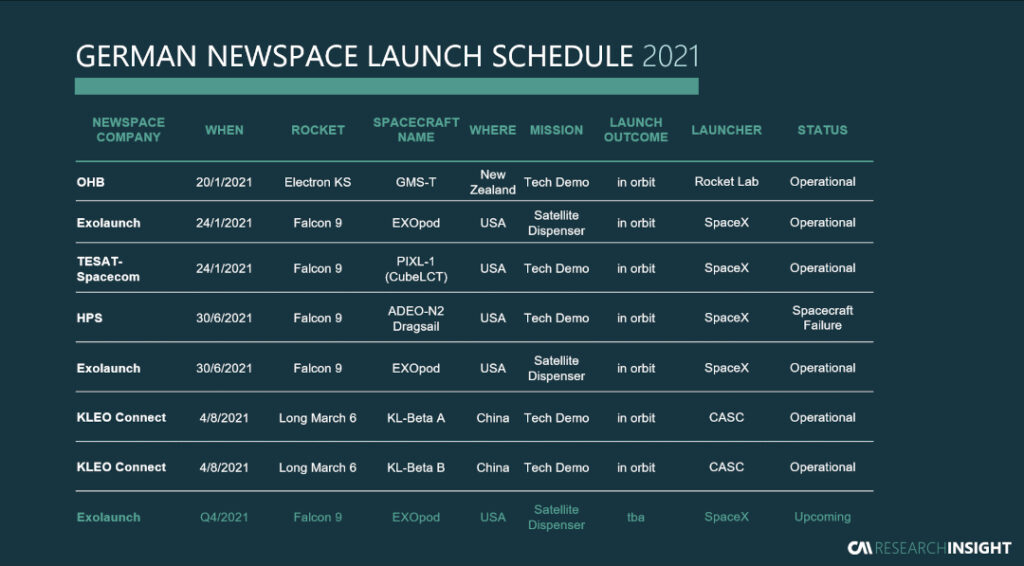 With 2 commercial hardware products launched, the revenue-generating startup Exolaunch and its EXOpod satellite dispenser solution sent strong signals of increased operational maturity to prospective investors and customers. A third mission is in the pipeline for Q4 2021.
Download the full German Launch Update Report 2021 here for free.
Disclaimer
Despite careful and thorough investigation of facts, figures and data analysis applied, Capitol Momentum does not claim to have complete information, nor do we imply to have access to private or confidential information on any company, project or individual listed or identified. Capitol Momentum does not accept responsibility for any business, investment or partnership decision resulting from this report.
Source: Capitol Momentum's NewSpace Business Update HY1 2021 Germany and NewSpace Industry Report 2020 Germany.
(c) Capitol Momentum
Image: Released 2/11/2021
Note: This work is licensed under the Creative Commons Attribution NoDerivatives 4.0 International License. This means content cannot be altered from its original form and must include Capitol Momentum. View a copy of this license here.